Called From Contentment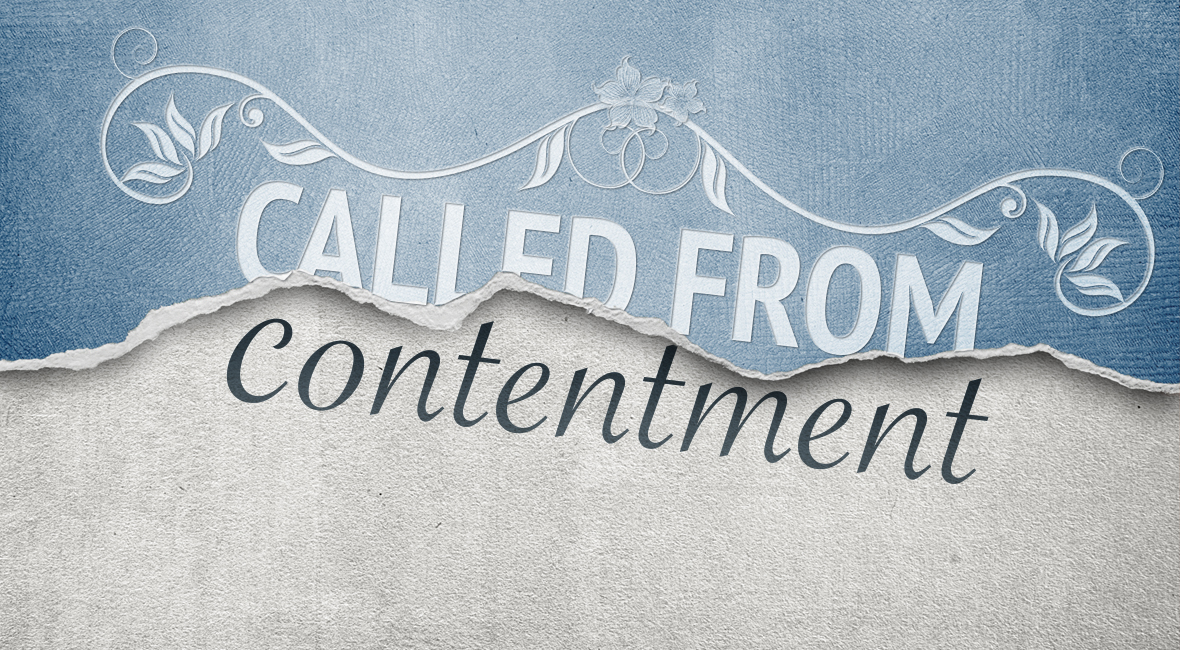 As a missionary in a third world country, contentment is a concept that seems to always have new depth of meaning to me. I am always tuned in to Bible references to contentment, people who are content, and those who seem to have mastered it! That's why a simple three word phrase was so signifiant to me when I read Exodus 2:21- "Moses was content"
"Moses was content"

CONTENTIn this passage, we find Moses in a tent in Midian, happy and satisfied. At this stage of his life he had ended his long wander across the dessert and had found a restful place to call home. He was among people who opened their hearts and homes to him. He had taken up the peaceful occupation of a shepherd and was on the brink of finding love. Marriage and children were soon to follow.

It was in this idyllic setting, while Moses was out tending his docile flock on the side of a craggy, majestic mountain, that God gave Moses a direct call to go deliver his brethren from bondage.

Immediately, Moses' peaceful, contented existence was shattered. His hopes for staying in this picturesque scene for the rest of his life was now evidently not what God wanted for him. His confrontation with God brought more than a command to go on the frontline for a righteous cause- it brought the sacrifice of the life he thought he would be living and a rush of memories of a complicated life he had been all too happy to put behind him.

I think many people can understand these feelings. Many of us plan our life out. We find a career that it appears God has suited us for, and we jumped in and began doing our best at it! There is a home church we love to be involved in, with ministries we enjoy and we know need laborers! We love our relatives, with all the traditions we share and holiday celebrations we plan. And let's not even mention Walmart Pick Up or Starbuck's Drive Thru…

What would the reaction be if God intervened? What if He showed us this life is not what His full plan for us is? What if He places, in the midst of our very contented routines of life, an unmistakable call to leave it all behind for the cry of people suffering in bondage? An honest conversation with God can change everything!

Moses had many reactions to God's call. Let's see how God walked him through them and what we can learn about our own submission to God's call.

INADEQUATE Being the meek man he was, Moses saw only his weaknesses. He raised many objections about his ability, highlighting his limitations and inadequacies. God responded to Moses' fear, not with beefing up Moses' pride. He didn't bring up his time in Egypt being instructed by the world's most advanced educational systems of the day. He didn't mention his many contacts in Egypt that would easily give him audience with Pharaoh. He didn't even remind Moses of all the family and friends he had in bondage that would surely rally behind his leadership. God simply asked him what was in his hand. God showed miracle after miracle using only what Moses had with him while standing on that holy ground.

God wanted Moses to know that the strength, might, and power to accomplish this sacred calling wouldn't come from Moses' ability, contacts, or confidence- it would come from His reliance on God alone.
I am a missionary. My family and I live in Zambia, Africa. God has clearly called me out of my comfort zone. (My Comfort Zone definitely does NOT include a baby snake in my closet! I was the little girl who used to shake her shoe out in case a scorpion was lurking in the tip… while living in Upstate NY!) And like Moses, God's call for me is to deliver my brethren from bondage to the harshest taskmaster of all- SIN.

Never in my life had I felt so inadequate as when I first tried to minister cross-culturally! The culture and answers that I knew by heart and felt comfortable with while in the US, were now foreign to my neighbors.

I easily recall a fellowship shortly after I first landed on the Dark Continent. We were hosting a meal with the first church we worked at here in Zambia. After cooking, eating, and cleaning up our lunch of nshima and chibwabwa, some ladies and I sat together under a lemon tree in wobbly plastic chairs to enjoy some conversation. The subject of witchcraft soon came up- which was culture shock in and of itself! I mean, that topic NEVER came up at church fellowships in NY! My African sisters in Christ articulated fears that I had never considered, let alone felt. The battle to trust in God's protection for their marriages more than to give in to the fear of the works of darkness was very real and very strong.
At that moment I absolutely knew that the only way I could minister to my new friends was through the wisdom and power of God. My personal experience no longer held water. But that was exactly what God wanted- a deep personal knowledge that HE is the one working, and I am merely the tool in His hand.

Psalm 71:16- "I will go in the strength of the Lord God: I will make mention of thy righteousness, even of thine only." When God's servants rely on Him and speak of Him, this is when God is truly able to work freely!
OVERWHELMEDI think it's worth noting that if Moses had continued to argue with God and had never stepped out in faith to be used in this way, he would have never made the mistakes he did. •He would never have smashed the first draft of the 10 Commandments in anger and needed to have them rewritten by God. •Moses would have been safe from the public shame of hitting the rock when God told him to speak to it. •His own brother and sister probably would have never murmured about him and caused him relational turmoil. •And he certainly wouldn't have had the season of being crushed under the weight of judging the problems of all the children of Israel. (How many people was this? I've read it was around 600,000 men, not counting women and children!)

It was a massive job that God had given him. And Moses' fear at the onset became true. He didn't always do it perfectly.

But despite all of his failings, when Moses began to stagger under the weight of the responsibility, he went straight to God and begged for more grace. In this conversation we find the most beautiful promise, "And he said, My presence shall go with thee, and I will give thee rest." Exodus 33:14
Let me tell you, these words flood my heart with joy! You see, I make pah-lenty of mistakes in my day to day life! Little third-world inconveniences can make one's true spiritual colors glaringly obvious. My tendency to be overcome with fear rears its head when a cobra stares my 3 year old down from 3 feet away or when we find a camel spider in my sink minutes after my daughter was standing there. My impatient heart is evident when I take my 5 year old to four different clinics for a malaria slide and we strike out at each one.
From Moses' life, and especially his mistakes, I see that following God's leading isn't a magical formula that guarantees confidence or even security from embarrassing errors. Nor is it a promise that if I obey I will never be overwhelmed. (Did I mention snakes? Only twice? Ok.) 🙂 My natural abilities are not why God gave the commands to me He did.
God doesn't call you or me because WE can do this. He calls us because HE can do it.
But there IS a promise that God's presence will be with me, walking each (sometimes scary) step right along side me. And in addition to the precious knowledge that He will never leave, He proclaims He will provide the rest our soul needs when we feel like we're in over our head.
JOYSo what did Moses gain by giving up his cocoon of contentment in Midian? Let's look at the epitaph written of him at the end of his life.
"And there arose not a prophet since in Israel like unto Moses, whom the Lord knew face to face". Deut. 34:10
Isn't that incredible!? In exchange for the life he thought he'd live, Moses reached a level of intimacy with God never before, nor after, known by man. Coming face to face with his sinfulness, failures, and limitations, gave him the opportunity to see God face to face!!
The best part is that Bible promises that in His presence isn't only the satisfying contentment that we all seek, but a full on JOY! "…in thy presence is fullness of joy." Psalm 16:11
Moses' story of stepping out in surrender towards the uncomfortable is an encouragement to others who have also heard the unmistakable call to leave it all behind for the cry of people suffering in bondage. To lean on Him through whatever He allows on the journey. For that is where true contentment and joy can be found!
…even if that includes creepy crawlies. 🙂